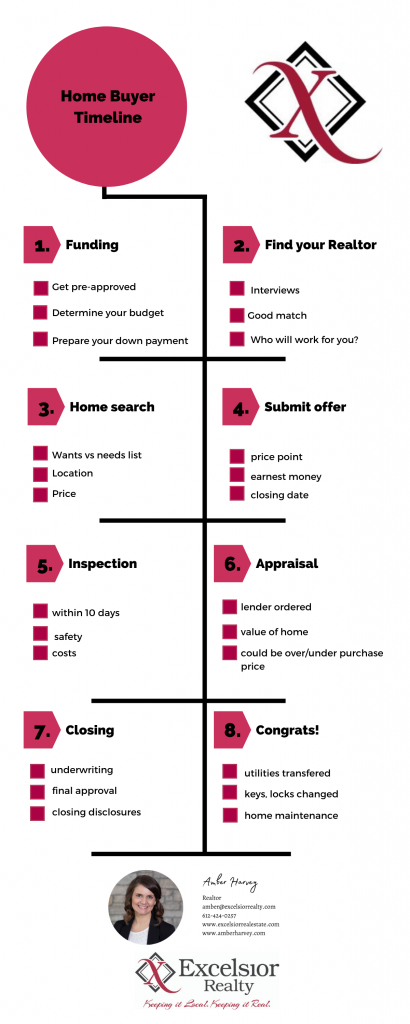 Did you know that buying a home can be accomplished in only 8 steps? Believe me it can! I have outlined the timeline and will explain each step.
The first step should always be to secure a plan for funding. In order to get pre-approved you will need to find a lender and apply for a loan. They will ask for the last 2 years tax statements, last 2 paychecks, and last 2 bank statements. The lender will also check your credit score to make sure it is above the recommended number and for you to get the best interest rate. Once you have your pre-approval process complete, you can start working on your budget. In this phase, it is important to keep in mind other expenses beyond just the mortgage as the type of house you choose may come with additional monthly expenses.
At this point, if you don't already have a realtor you should start doing a local search to find a person that will work the best for you! A great realtor will help you to determine the best home search process that will involve your wants and needs lists, location, price, and how to accomplish the goal of finding a new home.
In the current market, you may need to make decisions quickly. We are still seeing low inventory of homes and therefore things move fast. I like to show buyers several homes that touch on various price points, locations, amenities, and give a big picture view of the current market. By doing this, the buyers I work with are educated and ready to make quick decisions about homes that they want without experiencing buyers remorse. It also provides a research based approach to submitting offers. Most homes are selling in what is called "multiple offer" situations. When there are multiple offers on a home you need to always submit your highest and best offer in order to have a chance at winning the home.
A home inspection typically follows an accepted offer. There are certain situations where you may or may not want an inspection. I educate buyers about their options and provide at least 3 home inspectors that they can work with. A home inspector does a top to bottom, inside and outside, detailed review of the entire home to ensure no safety hazards are present, such as mold or radon.
As you near the closing date (the date the purchase contract closes), your lender will order an appraisal to make sure that the bank is funding a mortgage that is aligned with the homes value. An appraisal is ordered by the lender and completed by an appraiser that is certified or licensed to complete the process. Once the appraisal is complete, the loan is sent for underwriting and final approval. The lender may need to check your credit, employment status, and bank statements one more time before closing so its important that no major changes happen during this time frame (aka, don't take out a new credit card or loan to buy a car).
Once all the others steps are completed, its time for closing day! I love handing over the keys and welcoming my clients to their new home. Before closing, you will want to make sure that utilities are transferred so that you have electricity and internet! Some buyers elect to change the locks or door codes. It is also important to establish a home maintenance plan to take care of your most expensive asset.
I told you it could be accomplished in 8 steps! Call me if you are looking for your first home, downsizing, upsizing, or anything in between.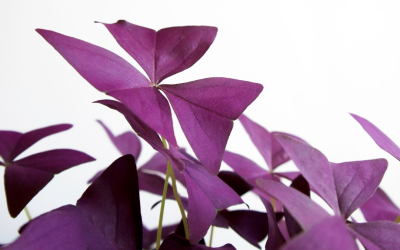 Chose a color of shamrock (oxalis) and I will deliver along with a complimentary comparative market analysis for your home or neighborhood.